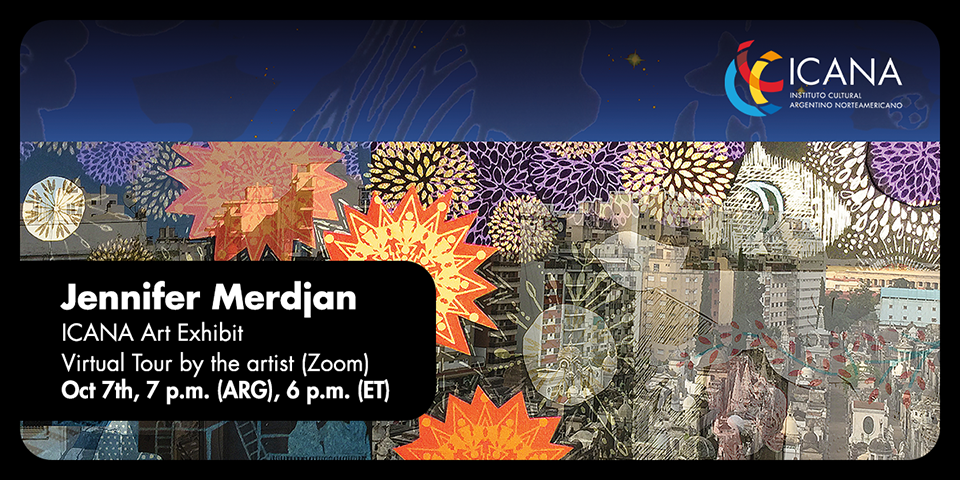 ICANA ART EXHIBIT
How Can I Love You More? Leaving Images Along The Path, by Jennifer Merdjan
El jueves 7 de octubre, 7:00 p.m. ICANA ofreció un tour virtual de la exposición: How Can I Love You More? Leaving Images Along The Path, de la artista argentina-norteamericana Jennifer Merdjan. ¿Te lo perdiste? Miralo en YouTube
Esta exhibición reflexiona sobre diferentes personas, culturas, lugares y momentos que han impactado a los artistas y sirven como fuentes de amor e inspiración. La exhibición lleva dos años preparándose y las obras de arte se han creado específicamente para el espacio de exhibiciones ICANA White Hall. Debido a la Pandemia de Covid-19, los planes para esta exhibición tuvieron que cambiar y la exhibición se presentará sólo virtualmente.
Jennifer Renée Caden Merdjan nació en Nueva York, donde reside. Ella siente fuertes lazos de conexión con la cultura y tierra de la que emigraron sus padres, y donde todavía reside gran parte de su familia, ella eligió asumir una doble ciudadanía y se convirtió en ciudadana Argentina. Sus obras de arte fueron exhibidas en diferentes sitios de los Estados Unidos y esta es su primera exposición internacional. Jennifer trabaja con técnicas mixtas y materiales reciclados. Ha estado creando obras de arte mediante el reciclaje y reutilizando todos sus zapatos durante más de 26 años!
Jennifer invitó a su tía Sara Perpiñal, artista argentina, a exhibir pinturas seleccionadas para esta exposición. Las obras de ambas artistas se complementan y dan lugar al nombre de la exhibición: How Can I Love You More? Leaving Images Along The Path.
El evento se realizó vía zoom y fue presentado por la arquitecta María José Bermudez, vicepresidente 2da de la comisión directiva de ICANA.
ARTIST STATEMENT
My artwork uncovers the ground that binds human beings together as one. This ground is the passage of time and its disappearance in a culture dominated by mass production and digital technology. My work restores the awareness of time. It endows material objects with histories of change, or it invests disembodied subjectivity with materiality to root them in the present.
Every shoe tells a story of where you have been and where you are going. For over 26 years I have repurposed individual shoes from my collection to create sculptures. More recently, I have shifted my practice to create larger scale assemblages that combine multiple shoes with everyday objects. By repurposing utilitarian objects that most people use, I act as a catalyst to bring out the passage of time hidden within them. This metamorphosis encourages the viewer to endow these overlooked objects with temporality and subjectivity, restoring the viewer's own awareness of the dynamic changes of life.
In parallel, I make two-dimensional works that question the effects of technology and social media on people's inner life. The mixing of fine art and craft techniques, without the total rejection of digital technology, invites the viewer to repossess his or her interiority. These multilayered works present the environments and spaces of daily existence, and their themes speak to being present and mindful. Their mixed-media process underscores the value of using one's hands. By folding digital technology back into traditional methods, these works restore everydayness and materiality to our disembodied subjectivity.
Jennifer Merdjan.